Events
Hats are more important than pants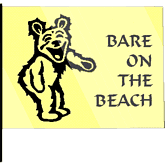 Events or 'Happenings' are a good way for 'free range' naturists to gather. Most events are held either at a beach or in a pool... preferably a warm one!
Holding events at beaches and other public venues is one of the main ways to spread two messages among the public: first, it is not illegal and second, giving it a try is the only way to prove to oneself what a wonderful lifestyle it is!
In the case of beach events, usually there would be one of our Fred Bear flags evident in the vicinity.
There are also opportunities to register your own beach trip or other event, for the purpose of notifying others who may be inspired to join you! (Note that these communications are moderated.)
Many naturist events in New Zealand are held on a club's grounds. They usually fall into one of two categories: regular and ad hoc. Regular club events often include an annual 'open day' - ie: provisions of an opportunity for the public to inspect that club. The short-notice events can include inter-club sporting events or combined trips.
The list of regular Free Beach events and gonatural events, occasionally coincide; eg: with rallies.